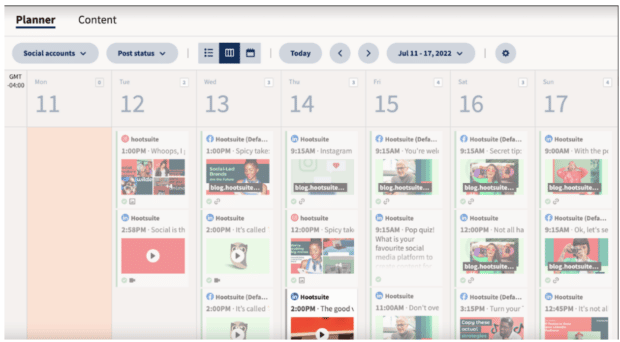 To succeed in a social media, you need the right skills, the right knowledge, the right training — and the right social media marketing tools.
Each social media platform operates as a silo. So without third-party social media marketing tools, you'll waste an incredible amount of time just switching tabs, logging in and out of different social accounts.
The right social media marketing stack quite simply makes you a better marketer. Using the best tools frees up time to dedicate to creative tasks. At the same time, you get a clearer view of how those creative decisions are working out.
Here, we take a look at the different kinds of social media marketing tools that will help you effectively connect with your social media audience and hit your business goals in 2022.
Bonus: Get a free social media strategy template to quickly and easily plan your own strategy. Also use it to track results and present the plan to your boss, teammates, and clients.
Social media scheduling tools
A social media scheduling tool is a software solution that allows marketers to create social content in advance and schedule it for automatic publication at a specified time.
Most social platforms have some basic native scheduling options. But third-party tools provide greater flexibility, functionality, and the ability to schedule content for multiple social accounts from one dashboard.
And by creating extra time in the content creation workflow, social media tools actually help with a lot more than scheduling.
Social media scheduling tools provide a workflow that allows teams to work together more effectively. It's easier to collaborate on content created in advance than it is on spur-of-the-moment posts. This can be especially important for large teams or organizations in regulated industries.
That built-in collaborative process also allows for content to go through a predetermined series of approvals. With some tools, everyone can work on social posts, but only senior team members can approve them to go live.
Benefits of social media scheduling tools
Create social content in advance and plan a cohesive posting schedule for multiple accounts.
Publish content automatically at a pre-defined time.
Manage cross-platform campaigns in a central location.
Create and schedule content in batches, so you consolidate your efforts and avoid multiple interruptions throughout the day.
Collaborate effectively with teams.
Create an approval workflow to review all social posts before they go live.
Suspend posts across all platforms with a single click if required in case of major news or a crisis.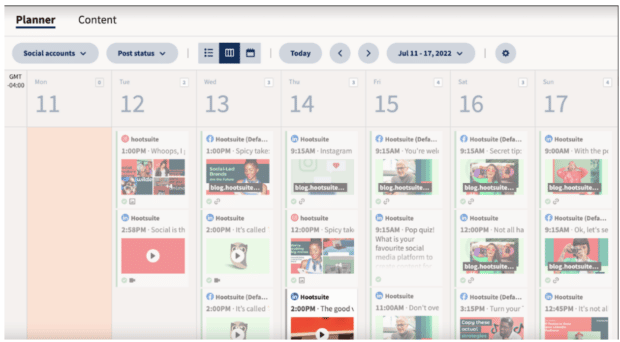 Learn more about social media scheduling:
Social media analytics tools
Social media analytics tools are solutions that give marketers the ability to track, analyze, and understand the performance of social posts and campaigns. All social networks offer basic native analytics tools. But these require you to log in and out of each network individually, so you're looking at your results in isolation.
Specialized social analytics tools allow you to see the bigger picture. Rather than focusing on which of your Instagram posts performs best, you can see how your Instagram results stack up against your performance on Facebook or TikTok. You can then revise your strategy to connect with your followers where they're most likely to engage.
Social media analytics tools also allow you to track customers and leads from your social content all the way through to a purchase or other conversion.
Benefits of social media analytics tools
Set clear performance benchmarks based on a unified view of all your social posts.
Learn how to improve your results over time.
Make it easier to calculate the ROI of your organic and paid social campaigns.
Track customers from first contact all the way through to conversion.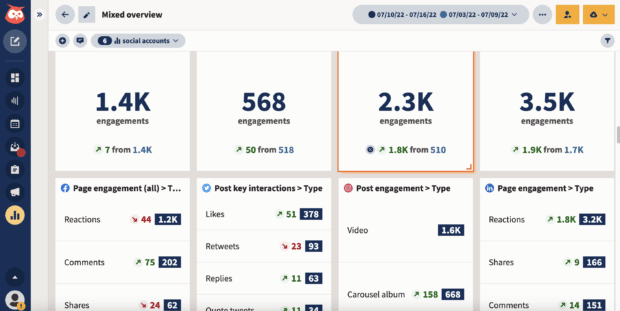 Learn more about social media analytics: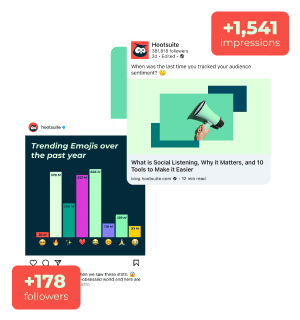 Growth = hacked.
See how all your posts are performing in one place. Grow your business faster with Hootsuite's social media analytics.
Social media monitoring tools
Social media monitoring tools are software solutions that allow you to understand what people are saying about you online. They also help you gain insights about your competitors and your industry.
Social platforms will provide a notification if you are tagged in a social post. But not everyone who talks about your or your products on social media will include an @mention in their post. And they certainly won't tag you if they're talking about your competitors.
With social monitoring tools, you can keep an eye on variations of your brand name. In addition, you can track branded and industry hashtags, your competitors' brand names and usernames, and any other relevant keywords.
You can also identify thought leaders in your industry and potential influencers or content creators to partner with, while building a library of curated content to share.
Benefits of social media monitoring tools
Stay up-to-date with the latest thought leadership in your industry.
Access a constant stream of relevant curated content based on hashtags, location, or keyword.
Get the full picture of what people are saying about your brand online, even if they don't tag you.
Keep an eye on your competitors to see when they launch a new product, promotion, or campaign.
Identify potential partners to help build your brand.
Learn more about social media monitoring: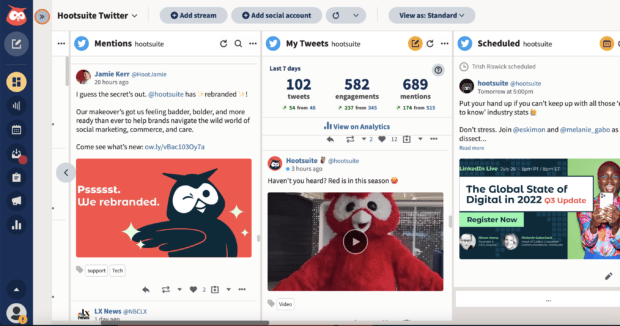 Start a free 30-day trial
Social media listening tools
Social media listening tools are similar to social monitoring tools. But they allow you to take your understanding of the social conversation even deeper. Beyond simply monitoring social discussions, social listening tools help you plan the best course of action based on what's being said online.
A simple tally of mentions doesn't give you the full picture. Social listening tools help you understand the intent behind the social conversation. This means you can monitor and protect your brand reputation.
Social listening also provides important opportunities to engage with your target audience. You can identify pain points, and potentially even come up with new product ideas. It's a good way to connect with engaged communities where they already talk about your niche.
Benefits of social media listening tools
Understand your audience based on what they talk about online.
Learn what people really have to say about you on social by tracking both tagged and untagged mentions, as well as relevant keywords.
Spot changes in your online reputation quickly, so you can play up successes and respond fast to missteps.
Join relevant conversations to start building relationships and stay front-of-mind.
Learn more about social media listening:
Social media reporting tools
Social media reporting tools give you the ability to create professional social reports to share with team members and stakeholders.
Rather than simply listing off the numbers related to your social performance, social reporting tools allow you to create visual representations like charts and graphs. These make it easy to see at a glance what's working, what's not, and how that changes over time.
When you need to report performance across the organization, social media reporting tools help you create user-friendly documents or presentations customized to each stakeholder group. You can share all the nitty-gritty details with your team while providing a higher-level analysis for busy senior managers.
Benefits of social media reporting tools
Easily compare your performance across platforms.
Track organic and paid posts together to make the most of your best content and understand the value of your advertising investment.
Use charts and graphs to get a visual picture of your social performance.
Create ready-to-share reports that you can customize for different stakeholders in your organization.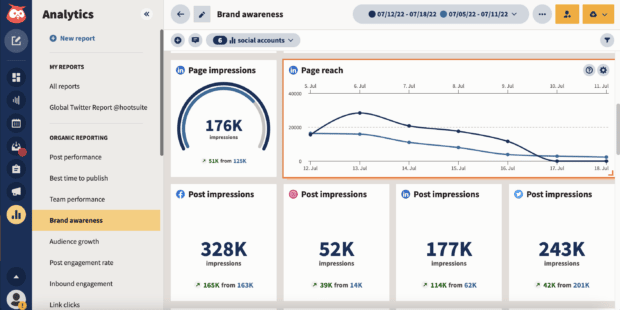 Learn more about social media reporting:
Social media automation tools
Social media automation tools are programs that free up time for busy social media managers by automating basic or repetitive tasks. This allows you to spend more of your time and effort on higher level work like brainstorming new content ideas or fine-tuning your social strategy.
Social automation tools can also provide a better experience for your followers by giving them faster responses and more customized information.
One newer component of social automation is the ability to create content automatically using artificial intelligence.
Benefits of social media automation tools
Spend your time on creative efforts rather than manual labor or data entry.
Make the most of your social advertising budget by setting triggers to boost your best social media content automatically.
Automatically recommend the best products or services with AI-powered social commerce.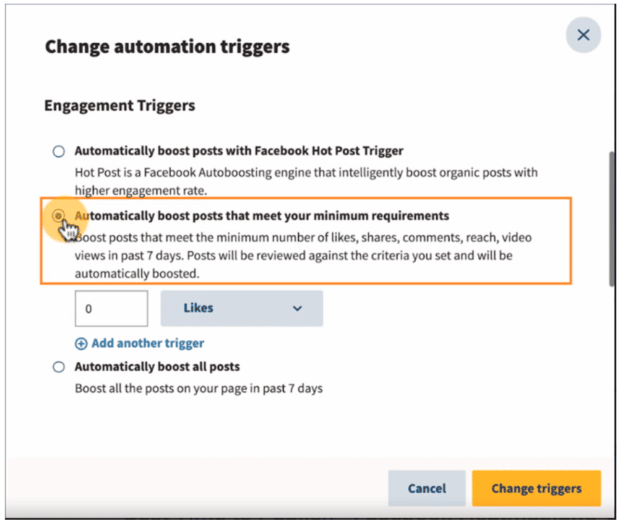 Learn more about social media automation:
Social media engagement tools
Social media engagement tools are solutions designed to help you get a greater response to your social media posts and improve engagement rates across your social channels.
One of the first rules of creating more engagement is that you need to reply to all comments and messages. Followers are more likely to comment on your posts if they see that you have responded to the comments that came before.
When you have a large social following, it can be a challenge to keep up with incoming public and private messages. Social media engagement tools allow you to manage comments and messages from all your social media profiles in one inbox. They also allow you to enlist help, since you can assign messages and comments to other team members.
Another kind of social media engagement tool is a forecasting tool that suggests the best times to post your content to get the most engagement. This kind of tool analyzes the performance of your past posts and crunches the numbers to predict what will work best in the future.
Benefits of social media engagement tools
Get custom recommendations on the best times to post on each account to achieve maximum engagement.
Respond to comments, amplify user posts, and share content with teammates for follow-up, all from one screen.
Monitor and respond to direct messages from multiple accounts in real-time from a consolidated inbox.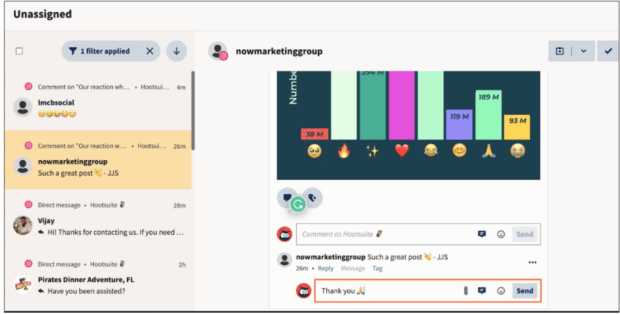 Learn more about social media engagement:
Social media customer service tools
Social media customer service tools are any tools that help you simplify or automate your social customer service. Even more important, they can actually help improve your response to customers.
Social is the preferred customer service channel for many consumers. And when they use it, they have high expectations about response time. Social media customer service tools help ensure you direct incoming queries to the right team member for the job.
Connecting your social media customer service to your CRM allows you to get a full picture of each customer interaction both on and off social. Social media customer service tools help your CRM and your social accounts (and teams!) talk to each other, so the information is shared with everyone who needs it. Each customer interaction builds upon the last, rather than having to start from scratch each time.
You'll also know when customers contact you through multiple platforms, so you can ensure a consistent response.
Benefits of social media customer service tools
Assign inquiries to the best team member for a speedy and knowledgeable response.
Use a library of saved replies or reply templates to reduce customer service workload.
Integrate social strategy with your CRM.
Monitor and analyze the performance of your social customer care team.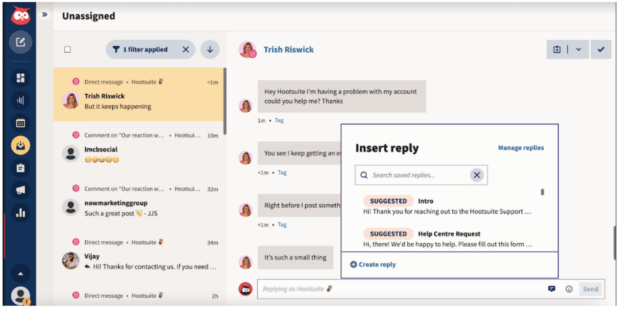 Learn more about social media customer service:
Social media chatbots
Social media chatbots are essentially virtual robots that provide automated messaging between followers and your brand. These tools used to be quite basic. They have improved significantly in recent years with the incorporation of artificial intelligence.
The original chatbots could only spit out pre-written responses. No, they can now use AI to suggest products, resolve queries, and even make sales. When conversations get too complicated, chatbots can pass the conversation over to a human. Your customers and followers get all the information and help they need, and your team focuses its efforts on the toughest cases.
Benefits of social media chatbots
Respond instantly to simple inquiries.
Offer basic customer support even when your office is closed.
Engage followers in an intuitive way using the channels they prefer.
Reduce the workload for your social team.
Increase sales through social commerce.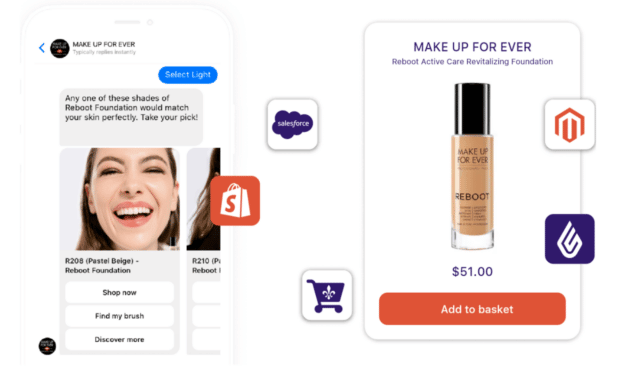 Request a free Heyday demo
Learn more about social media chatbots:
Instagram marketing tools
Instagram marketing tools are third-party solutions that unlock functions of this social platform not available natively.
For example, you can use Instagram marketing tools:
for more precise photo editing
to create a specialized layout and design elements
to get more technical with your video editing
to perform more detailed Instagram analytics than the app itself allows.
Instagram marketing tools can also be useful for managing influencer marketing campaigns. Further, they can be used to maximize the budget for your Instagram ads.
Linking out from Instagram posts is always a challenge for marketers. Try using Instagram marketing tools to create a linking page that makes it easier for viewers to learn more about the content in each of your posts.
Benefits of Instagram marketing tools
Schedule posts, stories, and Reels alongside other social content.
Access more elaborate editing tools than you can find in the native app.
Post to Instagram from desktop as well as mobile.
Collaborate with team members on Instagram posts.
Create an effective linking solution.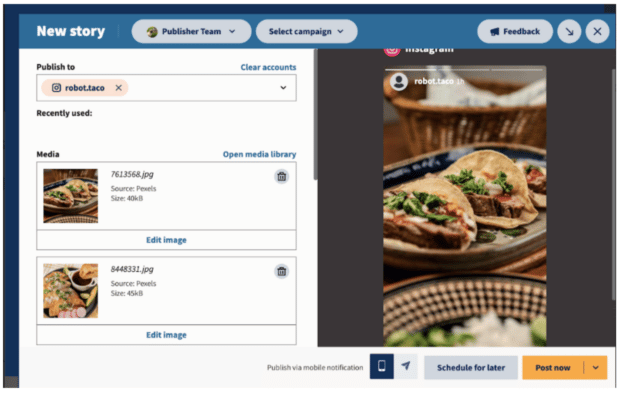 Learn more about Instagram marketing tools:
Facebook marketing tools
Facebook marketing tools are solutions to manage Facebook paid and organic campaigns with less overall effort. From detailed analytics to autoresponders, Facebook tools just make the process of marketing on Facebook easier. Who doesn't want that?
Since Facebook is so ubiquitous, Facebook marketing tools are a must in any social marketer's toolbox.
Benefits of Facebook marketing tools
Create, schedule, and collaborate on Facebook posts in advance.
Analyze and report on Facebook performance.
Organize, sort, and respond to Facebook messages alongside other DMs.
Learn more about Facebook marketing tools:
Twitter marketing tools
Twitter marketing tools make it easy to manage your Twitter presence, no matter how many accounts you have. This is especially important for larger brands, which may have separate Twitter accounts for customer service or for different regions.
Things happen fast on Twitter, and it's important to keep tabs on all of your accounts, all the time. It's a huge advantage to be able to run them all from one screen.
Twitter is an important network for social listening, which is another area where Twitter marketing tools can help. By creating customized searches and streams, you can monitor the overall Twitter conversation in your industry alongside your own accounts.
Benefits of Twitter marketing tools
Manage multiple Twitter accounts from one dashboard.
Reply to messages from all your Twitter accounts in one inbox.
Keep tabs on relevant Twitter conversations alongside your own Tweets.
Monitor competitor accounts without following them or adding them to a Twitter list.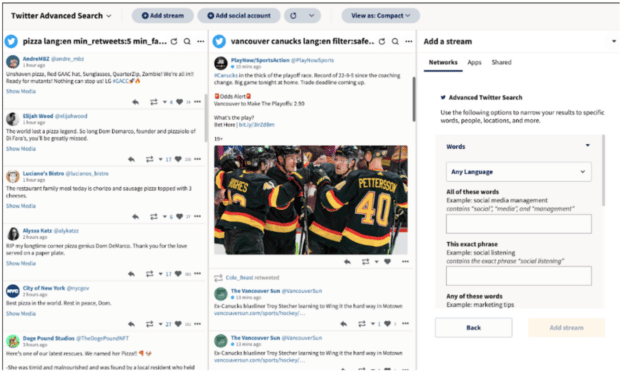 Learn more about Twitter marketing tools:
TikTok marketing tools
TikTok marketing tools are resources that allow social media marketers to do some exciting things not possible within the native platform. For instance, TikTok natively only allows scheduling up to 10 days in advance. But TikTok marketing tools can expand this timeline significantly or even indefinitely.
TikTok marketing tools also allow you to schedule TikToks from your phone (Yes! From your phone!).
If you're taking TikTok marketing seriously, you'll likely want more detailed analytics and reports than you can access within the app, especially in a graphical format that's easy to share with colleagues. TikTok marketing tools provide this data on both mobile and desktop.
Benefits of TikTok marketing tools
Schedule TikToks for any time in the future.
Schedule TikToks from your phone as well as your desktop.
Get recommendations for the best time to post on TikTok.
Get graphical TikTok analysis and reports that are easy to share with colleagues and stakeholders.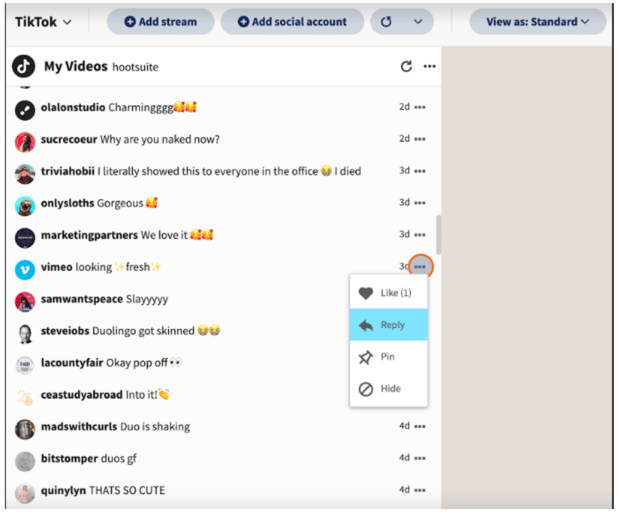 Learn more about TikTok marketing tools:
LinkedIn marketing tools
LinkedIn marketing tools are critical for anyone maintaining a LinkedIn Business Page. Why? Because LInkedIn offers no native scheduling option. And since LinkedIn is a business-oriented social network, there's no advantage to posting on the fly, and every advantage to taking your time to create, review, and schedule quality content.
Beyond scheduling, LinkedIn marketing tools help you better understand your LinkedIn analytics, ease reporting, and even get recommendations on the best time to post to your company page.
Benefits of LinkedIn marketing tools
Schedule LinkedIn posts, which is not possible without third-party tools.
Get custom recommendations on the best time to post for maximum engagement.
Understand your LinkedIn analytics in the context of your overall social marketing strategy.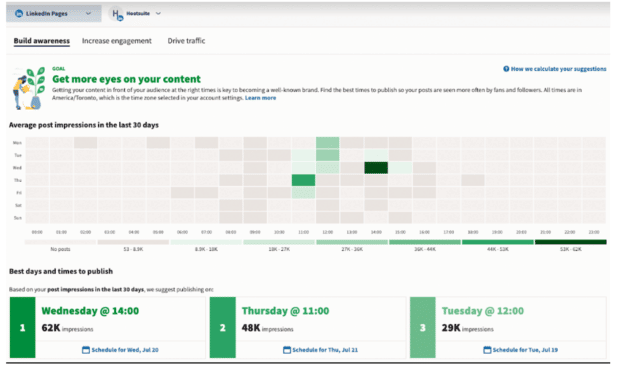 Learn more about LinkedIn marketing tools:
Save time managing your social media marketing strategy with Hootsuite. From a single dashboard you can easily:
Plan, create, and schedule posts to every network
Track relevant keywords, topics, and accounts
Stay on top of engagement with a universal inbox
Get easy-to-understand performance reports and improve your strategy as needed
Try Hootsuite for Free
Do it better with Hootsuite, the all-in-one social media toolkit. Stay on top of things, grow, and beat the competition.